Back from two glorious weeks in Europe. 
I won't provide a travel account of my vacation here, other than to say that it began with five days in Paris, followed by four days with friends in Burgundy, two days in Provence, a drive up through the Massif Central, two nights in the Champagne region, and then a hop across the border to Germany, with departure from Cologne.
Of course any trip to Europe brings one into close contact with an abundance of history–some (but not me) might say an overload of it–and it offered numerous occasions for me, as a historian, to think about history in ways that I don't often think about it back home in Texas.  So I thought I'd share a few of those random thoughts here.
In preparation for the trip, I downloaded and read an e-book onto my iPad from the TCU library (how high-tech is that?!?):  Alistair Hone's Seven Ages of Paris (2004), a narrative history that follows Parisian and French history from the rise of Philippe Auguste in the 1100s all the way to the post-WWII era.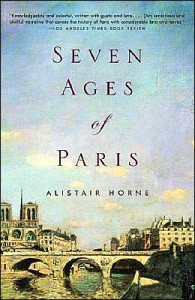 If you're going to Paris, I highly recommend this book, although it tends to focus on the kings, generals, popes, and politicians, with relatively little social history of the French common folk.  I found myself wanting to learn more about daily life in medieval Paris, but from what I did learn, I'm sure glad I wasn't an inhabitant of the that particular time and place.  When you weren't dying of some epidemic disease in your hovel, you were being trotted out to be used as cannon-fodder in some religious war or some nasty conflict with the English (or the Germans or the Spanish or whoever the enemy-du-jour was).  But in my reading I did get enough of the flavor of life for the masses to gain a new appreication (if that's the right word) for the staggering degree of inequality that characterized European life for centuries.  You look at an undertaking like Notre Dame or the Louvre–these astonishing structures built at unimaginable cost specifically to serve as displays of the power and might of crown or the Church–specifically to awe the commoners and remind them daily of their insignificance–and you begin to understand something about the fury that was unleashed when the French people finally rose up in 1789 and began their revolutionary rampage.
And what a rampage it was.  Evidence of it is everywhere you go in France. Much of it was directed at the Church, and from Notre Dame down to the lowliest village chapel, you see what seems like crazy, mindless vandalism, as statues were torn down, glass broken, fires set, and whole churches, like the astonishing Abby at Cluny (which rivaled Rome's St. Peter's in size, grandeur, and importance) trashed, abandoned, sold, or used as stone quarries.  When I first began to encounter all this evidence of revolutionary-era destruction of religious sites and palaces, I had what must be a common American reaction:  How could people so wantonly, and in total disregard for their country's historical heritage, destroy so many beautiful and priceless things?  But as I read more French history and thought more about it, the more I realized that I would've probably been right there at the head of the mob, ready to vent my anger at  these symbols of the ancien regime's grandeur.  The money spent on one stained-glass window of the Sainte Chappelle church in Paris (maybe the most spectacular display of stained glass ever built) would have fed, housed, and clothed how many families for a year?  Hundreds?  Thousands?  Who knows.  Need that guillotine blade sharpened?  Here, let me help you . . . .
Of course, one could argue that the Catholic Church only got what it deserved, after what the early medieval Catholics did to the magnificent ancient Roman sites in the South of France, in Provence.  The city of Arles, in particular, bears witness to how little regard the new Christian masters of France had for their own pagan Roman past, as the astonishing arenas and amphitheaters and shrines and aquiducts were cannibalized in much the say way that the French revolutionaries would trash the monuments of church and state a millennia later.
My visit to France–conducted with my historian's radar activated–ended with a visit to the Champagne country in the northeast.  Here I had another interesting brush with a classic piece of French history, but one with a happier ending than many of the others.  This included a tour of the Moet et Chandon Champagne cellars–the largest producer of the bubbly stuff in the world.  It turns out that Moet et Chandon preceded the French Revolution (but not the Romans), and one would have expected that they would've been a prime target of the rampaging revolutionaries in 1789, given that Champagne was literally the drink of the kings.
But the M&C folks kept their heads down (probably didn't hurt that most of their business takes place underground), cultivated the export business, and when it was clear who was going to come out on top (Napoleon), they cultivated him with a vengeance.  He became a great client, and the rest, as they say, is history.  Moral to the story:  capitalism has more staying power than churches or monarchies.  Or maybe it's just that everybody likes Champagne.And they did it right, using the original medieval plans and building techniques.  So what you basically have is a nineteenth-century monument to the medieval past, all done in the service of modern nationalism.  But of course the story doesn't end there.  During World War II, the Allies reduced Cologne to rubble.  And I mean rubble.  But they purposefully spared the great cathedral.  Yes, there was a good bit of bomb damage, but when Germany surrendered, the bulk of the structure survived.  (The locals had taken out the stained glass and hid it for the duration fo the war, so it all survived.)
Today you can climb the 570 feet from the street level to the top of the highest tower of the cathedral, which offers commanding views of the modern, rebuilt city of Cologne.  (Just be in good shape–it's quite a climb!)  Historians aren't generally too keen on the idea of linear "progress" in human history–we know that modern times have witnessed some of the greatest barbarities in the entire history of mankind (remember why the Allies were bombing German cities in the 1940s. . . .).  Still, wilth all the turbulent history of Europe over two millennia, it's pretty cool that you can see sites like the Cologne cathedral, or for that matter, medieval French chateaus or two-thousand-year-old Roman ruins.  The rest of the world, we Texans included, can take a lesson from a united Europe that is more or less at peace with itself and its neighbors, and finally interested in preserving its historical sites.